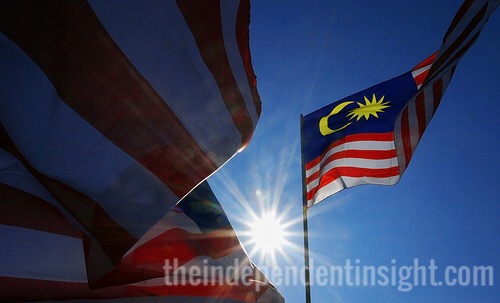 Happy Merdeka day people!
Yesterday marked the 60th year of Malaysia's Independence Day, a very meaningful and important celebration for every Malaysian.
We have been colonized for more than 400 years by the Portugese, Dutch, British and the Rising Sun country – Japan, until our first Prime Minister, Tunku Abdul Rahman and several other leaders successfully free our country from the colonial's fist.
That's the snippet of our history. Those days were gone and it's been 60 years we live peacefully and independently among our harmonious multi-racial society. After all, we are all Malaysian.
How about your financial independency? Are you as freedom as our country? You know yourself better.
My parents decided to retire completely by end of this year – in December to be precised. They will move from JB to Melaka (my dad's hometown) and the best thing is they're completely free from debts. No work's commitment, no debts, they can go whereever and whenever they want. I fancy that life but I still have a long way to go.
To be a debt-free is my main life goal so far. Debts are unavoidable but you need to differentiate the good debts and the bad debts.
So what I've done so far for this debt free plan?
1. Debt Planning
I listed down all my current debts, the amount, and the repayment plan. By doing this, it helps  giving me a better picture on my financial commitment. I suggest you make a nice, simple straight forward charts or maps and put it in your laptop or anywhere that you could access frequently. I also made my future debt list so that I know much loan I want to commit. Take home loan for example. This will refrain me to buy an over budget house that will crush my financial health.
2. Increase Monthly Income
There's a lot of ways on how to gain extra incomes. Driving Uber for example – I have several friends who drives Uber as a part timer and they earned pretty good. Or maybe if you're good with numbers and charts, you can get into investment such as Forex or maybe stocks. Start with something small and something that you're good at.
3. Plan Your Monthly Budget
This is a must for everyone. If you fail this step, there's high possibility you will have financial problem at the end of the day. The main reason why you should do this is to let you know better on how much and where your money should go. For more tips, you can refer to my article – How To Start Your Monthly Expenses Plan
4. Set Your Limits
When I mentioned "limit" I'm referring to the lifestyle. I don't have right to tell you on how to spend your money but the least I can tell is how I manage my lifestyle. I'll give you an example : 5 years ago when I went shopping for a leather shoes, I told myself that I need to buy a high quality-in trend shoes and I don't think twice spending RM 300-RM400 for a pair of shoes. Now, I wear leather shoes almost everyday to work and there are a lot of comfy, quality leather shoes under RM 200. Can you imagine how much money I could save? Again, if you can afford it by all means go for it. You know your money better.
5. Effective Communication
Well this one is for people in steady relationship especially married couple. You can't just do it alone. Me and my wife shared the same goal and we always discuss on our financial, where we are and what we should do sort of things. Sometime you need other people to remind you of your goal. You can always cheat on yourself (like I bought the cigs roller, thinking that I could save more but its not), but its hard to cheat others.
6. No Perfect Plan
All you can do is plan. If you achieve your plan, it's good for you. But most of the time, what you get is slightly different from what you've planned. Don't ever give up. If plan A is not working for you, start your plan B. Ain't no one can judge you. Your money, your plan.
(Visited 135 times, 1 visits today)