In this post, I want to share a very basic tips on how to manage your monthly expenses. I start to manage my monthly expenses in 2013 when I landed my first job as a technical executive in a shipbuilding company. I was technically a graduate engineer at that time so the pay wasn't so good and to have a bad spending habit (mostly on video games) just make it worst ?. Lesson learnt *finger crossed*
Then slowly I realized that I need to keep track every penny of my hard earned money so I start keeping every receipts in my wallet – hoping that I will store it nicely in a file like a stereotype successful businessman. Unfortunately that wasn't the case because I am too lazy and all the receipts are just so confusing.
It took me sometime before I start to use the spreadsheet to record my monthly expenses, which I still practice up until now. So what I did is, I create a custom template of my spending pattern and record my total income of the month. The spreadsheet will auto calculate my total expenses, my saving and my free cash. Bear in mind, your spending pattern is not always the same. Imagine if you have holiday plan that month, you can always allocate more money on your travel budget.
Before you start structuring your expenses plan, you need to know what type of expenses you have so you won't mixed them up. Basically there are 2 type of expenses :
Fixed Expenses
Fix amount of money you need to spend no matter what. Eg : home rental, bank loans (car, personal, credit card).
Flexible Expenses
The expenses that you can adjust depending on your needs. Eg : mobile plans, internet, tv.
For example, Ali's monthly income is RM 3000. He is single and currently renting a house with his friends. Below is the example of Ali's expenses plan :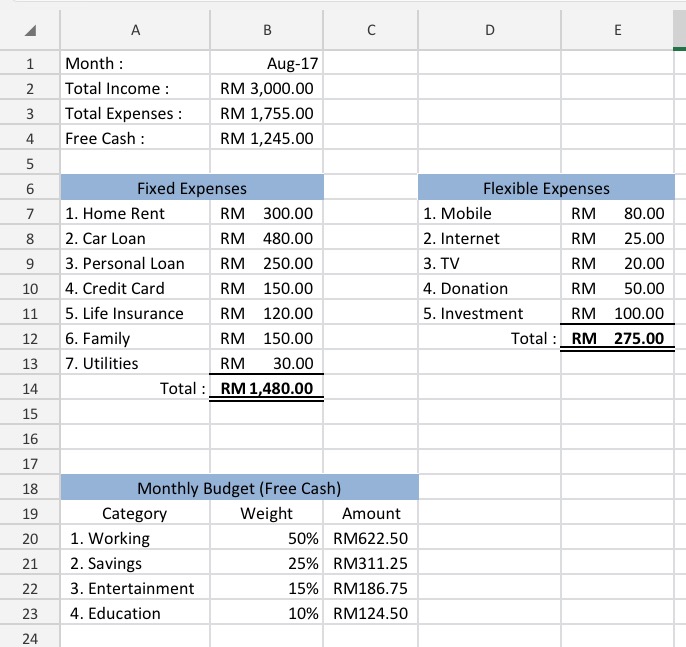 Every month, Ali need to allocate RM 1480 for his fixed expenses. This amount is unavoidable and might be increasing once Ali have more commitment. He also need to spend RM 275 for his flexible expenses. This type of expenses can be adjusted once in a while depending on the financial health and lifestyle. For example – 1 year ago, I used to subscribe RM 80 mobile plan from Maxis. Then I decided to change it to RM 38 plan from Celcom as the plan suit my lifestyle, plus I saved more than half over the year. Until recently I changed my plan back to Maxis as I need more internet data for my heavy usage and importantly the package falls within my budget.
Ali's total expenses for August 2017 is RM 1755, giving him RM 1245 free cash. This is when Ali start to break down the amount into 4 categories. Each category comes with a weightage which can be adjusted depending on Ali's plan for that month. Let say on the next month, Ali plans to have a little weekend getaway. He can allocate more budget on entertainment to support his travel expenses, and reduce his other budgets.
This is the first step you can try to start tracking your monthly expenses. Save your spreadsheets in clouds or dropbox for convenient editing. You can record your micro expenses using financial apps through your smartphone. I make a list of financial apps that you can download on your phone here Apps For Financial Planning.
How's your monthly budget so far? Share your thoughts in the comment ?
(Visited 1,530 times, 1 visits today)