For the PC gamers who are still trying to find an alternative for a mobile device that could access their well-invested Steam account whenever they go, the Steam Deck could be the answer. Now the question is how reliable this new device is compared to the other consoles on the market?

Specs

Valve has been partnering with AMD to create a custom chip that runs a Zen 2 CPU and RDNA 2 GPU. Fitted with 16GB of LPDDR5, the users will expect a smooth gaming experience. Although it came with a 7-inch display, it still doesn't output in 4K resolution. It will feature a 1200×800 pixels display with 16:10 aspect ratio. Valve had claimed the battery should last around 7 or 8 hours on a full charge.
From the physical appearance, it is kind of resemble the Switch but it has dual touchpad just under the thumb stick. As we speak of the thumb stick, I feel the location is too far on the upper side. I am not sure if this could be a minor drawback among the user but we'll see more on the reviews once it available.
Cloud Save
The Steam Deck will support a cloud save. So you don't have to worry about the game progress that can be accessible between the deck and the PC. The deck will also support other Steam features such as the Steam Chat and Remote Play.

External Hardware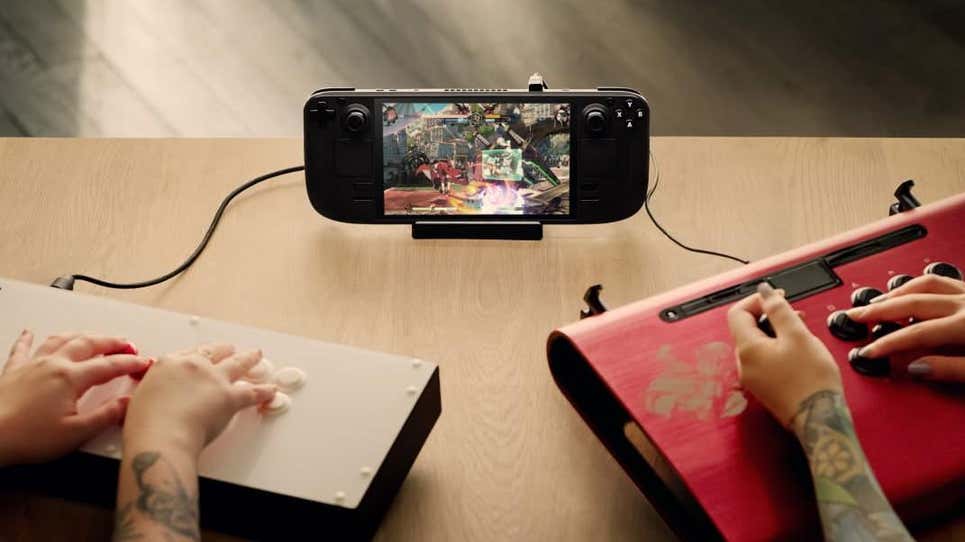 One thing about the PC gamers, they are always prefer the usual mouse and keyboard control. But don't worry as this Steam Deck will support the external mouse and keyboard thanks to the fully-fledged USB-C ports that contain HDMI, Ethernet and USB data, as well as standard Bluetooth that has been missing on the Switch for years.
An external docking system will also available for separate purchase. As Switch's docking system, this will connect the console to the TV seamlessly.
Price

The Steam Deck will be available on three variants with the starting price at $399 (64GB), $529 (256GB) and $649 (512GB), which the memory could be expanded through microSD. They are a bit pricey isn't it? This has also been confirmed with Valve's CEO, Gabe Newell, who said that Valve designed the whole system with "very aggressive" pricing in mind
The consoles will first roll out to the US, UK, Canada and EU region in December 2021, with other areas in 2022.

Comparison
The price range is a bit expensive when compared to other high end consoles available on the market. Is it worth it to buy the console with that price tag? Keep calm, and see the comparison below.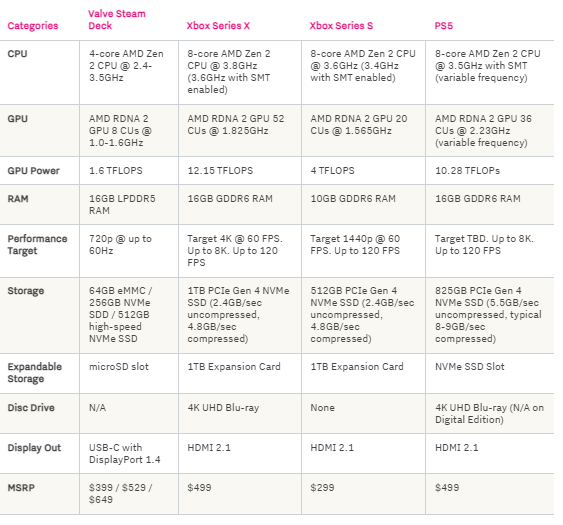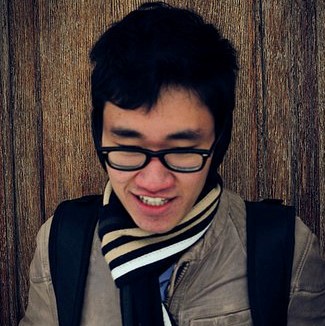 Part time independent writer and podcaster from Northern Malaysia.