Did you know – total of 22,581 bankruptcy cases recorded by the Insolvency Department (MdI) between 2012 and September 2016 involved individuals aged between 25 and 34. – source : NST, November 2016
Most of the reported cases are due to failure to settle hire and purchase loans, followed by personal loans and housing loans. Honestly, I am unaware of this housing loans. I am keen to find out more on this matter and maybe will write about it in future post.
When you decide to take up loan from the bank, you should aware of your commitment before you sign the papers. I do find some people who didn't even know the interest amount of their loans. That is just wrong..and sad.
In this post, we will discuss on how to tackling debts efficiently with 2 simple methods that widely used and recommended by many financial expert.
Let's take an example : Ali has several loans in his list ;
Credit Card – 15% p.a interest (total debt – RM 5,000)
Personal loan – 12.46% p.a interest (total debt – RM 15,000)
Hire Purchase – 3.01% p.a interest (total debt – RM 50,000)
Education loan – 1% p.a interest (total debt – RM 3,000)
Home loan – 4.55% p.a interest (total debt – RM 250,000)

Debt Stacking Method
This method is focusing on tackling the highest interest rate. By using this method, Ali's debt repayment plan should looks like this :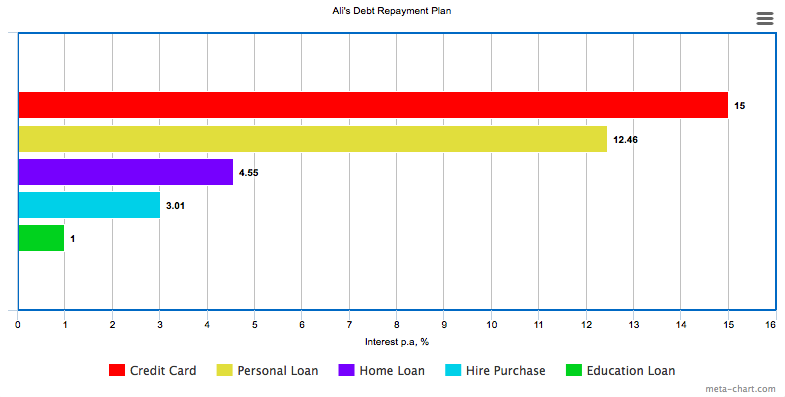 With this method, Ali should pay the minimum amount on all his loans, and use the extra available cash to pay the debt with highest interest rate, which in this case is credit card. Let say – Ali can allocate RM 2,500 monthly for his debt repayment but the total minimum amount that he needs to pay is just RM 2,200. The balance RM 300 is considered as the extra available cash and this money should go to credit card's payment.
Bear in mind –  this method is suitable for people who wants to save more money in interest payment and it takes longer time before you can cross the debt from you list, depending on the loan amount. You need to have the patience and importantly ; don't get demotivated.
Debt Snowball Method
Snowball method is focusing on lowest amount debt. This method is recommended by financial expert Dave Ramsey. Let's see how this method can be applied to Ali's debt list.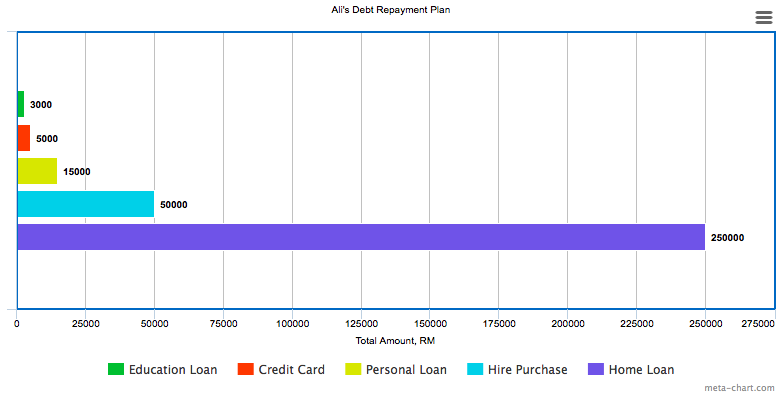 From the chart, the lowest debt would be the education loan which is only RM 3,000. Same as the stacking example, Ali will pay minimum on other loans and loop in the extra cash to pay his education loan. Soon when the debt paid off, it will give Ali more cash allocation which he can use to "attack" the second lowest debt which is the credit card,  and at the same time giving him motivation to settle other debts.
Personally, I prefer this snowball method. During my wedding preparation 2 years ago, I swiped my credit card here and there – telling myself that I can pay it all right after the wedding. I was wrong. It took me exactly 8 months to kill that devil credit card. To cross it off my debt list, I felt like a champ! ? (Rocky Balboa's theme song plays in the background)
I know it's hard for some people to get out of this debt's chain. If you feel like you are at the dead end and feel like giving up, don't be. You can still try to contact Malaysia Department of Insolvency to discuss your situation. Hopefully they will show you a way out.
You have any other efficient way to manage the debt? I would love to hear it in the comment.
(Visited 164 times, 1 visits today)