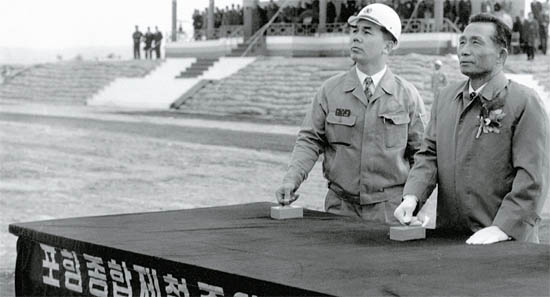 Kita sering diberitahu bahawa tugas kerajaan adalah mentadbir, kerajaan sepatutnya tidak terlibat dalam bisnes. Bisnes perlu dibiarkan kepada orang bisnes. Logik kepada perkara ini adalah kerana keputusan bisnes biasanya dilakukan untuk mendapat keuntungan, tetapi keputusan kerajaan mempunyai kepentingan politik dan kemungkinan tidak menguntungkan. Kerajaan juga tidak mempunyai maklumat industri untuk membuat keputusan yang betul, perkara ini menyebabkan bisnes yang dicampuri tangan-tangan kerajaan tidak efisyen dan tidak menguntungkan. Oleh itu, pasaran perlu bebas dari campur tangan kerajaan. Ini adalah asas kepada free-market capitalism.
Saya ingin berkongsi satu cerita menarik yang dikongsi oleh ahli ekonomi dari Cambridge, Prof. Ha-Joon Chang dalam bukunya "23 things they don't tell you about capitalism".
Korea Selatan merupakan antara negara yang paling miskin di dunia pada tahun 1965, dan mereka mengeluarkan idea bodoh untuk membina integrated steel mill (kilang besi keluli). Sumber ekonomi utama mereka pada ketika itu adalah eksport barang mentah seperti ikan, bijih tungsten dan lain-lain. Juga perusahaan yang menggunakan tenaga buruh intensif seperti pembuatan baju. Jika dinilai dari segi teori 'comparative advantage', negara yang mempunyai tenaga buruh yang tinggi dengan kapital yang kecil tidak sepatutnya menceburi perusahaan yang berbentuk kapital intensif seperti pembuatan keluli.
Korea juga tidak mempunyai bahan mentah asas untuk menghasilkan keluli iaitu bijih besi dan coking coal. Suasana perang dingin ketika itu tidak membolehkan Korea mengimport bahan mentah dari China. Bahan mentah perlu diimport dari Amerika, Australia, atau Canada yang jaraknya 5 ribu hingga 6 ribu batu, yang mana akan menambahkan kos pembuatan.
Walaupun Korea menawarkan pelbagai insentif seperti subsidi, kemudahan infrastuktur percuma, pengecualian cukai, kos penjanaan tenaga yang rendah, tiada negara mahu melabur dalam idea mereka. Lebih menakutkan pelabur, syarikat Pohang Iron and Steel Company (POSCO) yang ditubuhkan pada 1968 merupakan syarikat kerajaan dan ditadbir oleh Park Tae-Joon, seorang bekas jeneral tentera. Korea merancang untuk membuka industri negara terbesar dan diketuai oleh seorang yang bukan ahli bisnes!
World Bank menasihati pelabur untuk tidak turut serta dalam projek bodoh Korea ini. Pada tahun 1969 semua bakal pelabur termasuk Amerika, UK, German Barat, Perancis, dan Itali menarik diri dari projek ini. Tidak berputus asa, Korea meminta Jepun untuk menyalurkan bayaran ganti rugi perang kepada projek besi keluli mereka, juga membantu menyediakan mesin dan nasihat teknikal.
Industri keluli Korea maju dengan pesat, mereka memulakan pengeluaran pada tahun 1973 dan sekitar tahun 1980 berjaya menjadi pengeluar low-grade steel yang paling cost-efficient. Mereka naik menjadi pemain industri utama pada tahun 1990 dan sehingga hari ini menjadi pengeluar keluli ke-empat terbesar di dunia.
Author of several books including Berfikir Tentang Pemikiran. Fathi write from his home at Sungai Petani, Kedah. He like to read and sleep.