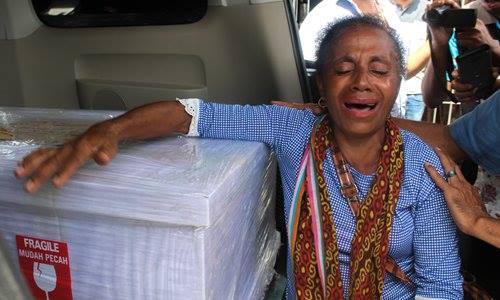 Employer acquitted of domestic worker Adelina's death, walks free
Where is JUSTICE for ADELINA?
Adelina Sao, 21, died in Bukit Mertajam hospital on 11th February 2018 from organ failure. When she was rescued, she was found sleeping outside the employer's home with the employer's dog. Her employers reportedly didn't want the pus oozing from her body "dirtying their home". Her arms and legs were covered in burn marks. Her face was swollen, and she was terrified when rescuers came to help her. Nurses and doctors at the hospital were in disbelief over the extent of her injuries.
Malaysians were rightly horrified and outraged when news of Adelina broke. On 14th February 2019, Minister of Human Resources M. Kula Segaran, citing how shocking Adelina's case was, said he is launching a "war" against human trafficking and forced labour. On 18th April 2019, Adelina's employer, S. Ambiga, was acquitted by the High Court. Where is justice for Adelina?
Tenaganita learned of the acquittal through an article in Kwong Wah Daily (dated 19th April 2019). The newspaper reported that the case was fixed for a continued hearing on 18th April, but S Ambika was granted full acquittal although the prosecution requested for a discharge not amounting to an acquittal (DNAA).
We understand that neither Adelina's family nor her representatives in Malaysia were informed that the court date was brought forward. This is unacceptable.
On 12th February 2019, Adelina's mother, Yohana Banunaek, said "she (her daughter) did not die because of her sickness, but because she was tortured". We are extremely shocked and shaken by the High Court's decision. Tenaganita and our partner JPIT in Kupang are distraught with this news. We cannot imagine the unbearable grief of Adelina's family.
The Attorney-General's office needs to explain why the prosecution has failed to bring justice for Adelina when there was substantive evidence in this case.
Adelina is dead. She was a young woman made to work for two years without pay. She was a young woman whose body was brutalised. Her death has to mean something. Why have our courts failed her? Why has the Malaysian government failed her? Where is justice for Adelina?
Tenaganita
Press Release
19th April 2019
(Visited 145 times, 1 visits today)
Author of several books including Berfikir Tentang Pemikiran (2018), Lalang di lautan Ideologi (2022) and Dua Sayap Ilmu (2023). Fathi write from his home at Sungai Petani, Kedah. He like to read, write and sleep.