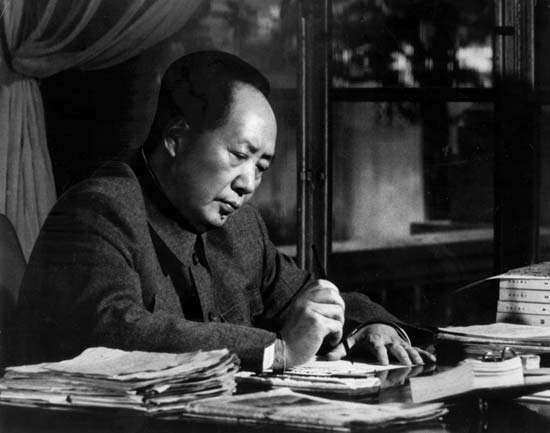 This small book which tries to tell a story about one huge world leader, really helps readers in a sense that you can understand a huge subject with fewer pages. Of course, it needs simplification, and also selection, in order to achieve this goal. A layman about the subject, I find the book helpful in my journey as readers. As I get to understand the subject in a less painful way (you need to sip through a few thick tomes to understand it as a whole).
I find Mao life story, struggle, family life, as interesting, strange, and often paradoxical in many cases. Born in 1893 at Hunan, he moved from being a librarian to the chairman of communist China. In the early life, Spence collected the habit of Mao, particularly his love for reading. Early in Changsha, Mao read rigorously in a library founded by late Qing's reformist. He had a great interest in world geography and history. One of this early teacher was Yang Changji (Mao married to his daughter later in his life), which reiterate the importance of exercise. Mao absorbs this idea and would regularly go hiking with his friend and swim in the Xiang River.
Mao also active in organizing student association to go on strike against Zhang Jingyao, famously known as General Zhang, a military governor in Hunan. Mao also loves poetry, one of his beautiful poem written to his wife, Yang Kaihui in 1923:
I'm begging you to sever these tangled ties of emotion.
I myself would like to be a rootless wanderer.
And have nothing more to do with lovers' whispers.
The poem was written by Mao as he left Yang Kaihui and their newborn child for National Guomindang Congress. The ties with Guomindang in a United Front later shattered, during this time Mao utter a mistake in party leadership, which neglected military affairs. He said that Chiang Kai-shek (his arc enemy) was right by raising in power with a gun in his hand. He then famously said, "We must know that political power is obtained from the barrel of the gun!". This development later evolved into a civil war.
Guomindang latter suffered a great lost against Japanese invasion. The 'rape of Nanjing' by Japan in 1937 brought a literal end to their power and finally retreated deep inland to Chongqing. Japan then suffered two atomic bombs and later surrender. The communist with the help from Russia quickly taking over, and in 1949 Mao announce the formation of the People's Republic of China at Great Tiananmen gate south of the Forbidden City.
The book also recalled Mao conversation with Stalin. On how propaganda is the main apparatus to achieve any goal. Stalin advised Mao to send propaganda team to Taiwan to foment an insurrection (Chiang Kai-shek has now retreated to Taiwan). On the final pages, Spence draws readers attention on how Mao grows into isolation and detached from realities. This caused a disastrous policy forced through the masses. Spence also noted that Mao rarely helps or promoted his family member to power. During the Cultural Revolution, Mao purged his dissenter such as Peng Dehuai causing further chaos and violence. He has several heart attacks and died in 1976.
This article is a book review of "Mao" written by Jonathan Spence. Published by Phoenix in 2000. Picture credit: Britannica.
(Visited 406 times, 1 visits today)
Author of several books including Berfikir Tentang Pemikiran (2018), Lalang di lautan Ideologi (2022) and Dua Sayap Ilmu (2023). Fathi write from his home at Sungai Petani, Kedah. He like to read, write and sleep.