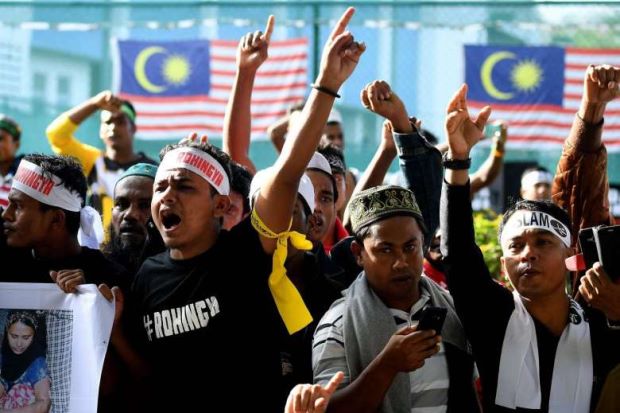 Malaysia merupakan negara yang terkenal dengan sikap toleransi merentasi bangsa. Pasca era kolonial, ketika negara serantau lain memperkenalkan satu identiti negara dengan satu bahasa, satu sistem pendidikan dan satu budaya, Malaysia mengambil jalan tengah dengan mengiktiraf kepelbagaian bangsa, menerima bangsa lain sebagai warga Malaysia, malah memelihara bahasa dan melindungi sistem pendidikan masing-masing. Walaupun ia bukanlah sistem yang sempurna, rakyat Malaysia mampu menerima perbezaan dan hidup bersama.
Di arena antarabangsa Malaysia juga memainkan peranannya dalam mempertahankan hak asasi manusia. Ketika konflik Balkan pada tahun 1992, Malaysia adalah antara negara yang aktif membantu di bawah naungan UN. Malah Malaysia dengan berani mengumumkan akan menghantar bantuan ketenteraan apabila krisis memuncak dimana bangsa Bosnia dibunuh dengan kejam oleh bangsa Serbia. Bahkan sehingga hari ini jasa Malaysia diperingati di Bosnia dengan penubuhan Masjid Malaysia di Nova Breka, Sarajevo.
Dalam hubungan serantau juga, Malaysia memainkan peranan aktif, antaranya dengan menjadi broker keamanan bagi menyelesaikan konflik bersenjata di Mindanao, Filipina dengan menggalakkan perjanjian keamanan 'Bangsamoro'. Begitu juga komitmen Malaysia membantu krisis kemanusiaan di Palestin, Syria dan lain-lain negara.
Baru-baru ini kita dikejutkan dengan gelombang keganasan terbaru di Arakan, Myanmar. Video dan gamba-gambar kekejaman tentera Myanmar membanjiri ruangan media sosial. Semestinya Malaysia yang terkenal dengan toleransi kaum tidak dapat menahan diri dari bersimpati dengan keadaan disana. Walaupun, dalam sejarah, Malaysia telah lama membantu bangsa Rohingya melalui NGO seperti HALUAN Malaysia dan MAPIM. Namun, kemuncak krisis terbaru menyaksikan segolongan warga Malaysia yang mempersoalkan bantuan kepada kaum Rohingya.
Antara tulisan yang tersebar adalah tulisan oleh Saudara Mohd Faizal Zulkifly. , beliau juga menulis berkenaan dengan Rohingya sebagai "bangsa tak sedar diri". Antara lain beliau menulis bahawa "konflik ini berlaku kerana keegoan kedua-dua pihak". Beliau juga menyalahkan bangsa Rohingya yang gagal berasimilasi dengan konsep 'Burmanization' dan "keengganan mereka untuk keluar dari kelompok mereka sendiri". Beliau juga memetik rasa patriotik dengan menulis bahawa isu Rohingya menyebabkan kita "tersepit dan serba salah antara kemanusiaan dan kedaulatan negara". Persoalannya benarkah dakwaan ini?
Dakwaan ini dijawab secara panjang lebar oleh Setiausaha Serantau Muslim, Hakim Mohd Nor. Antaranya beliau menyebut bahawa "Hakikatnya, mereka sudah pernah berjaya integrasi dan menjadi sebahagian ahli parlimen kerajaan pun. Tapi mengapa tiba-tiba tarik balik kerakyatan mereka dan menafikan hak-hak asasi hidup, pendidikan, bergerak, memilik harta dan pelbagai lagi nikmat warganegara. Sangat tidak adil mengatakan Rohingya tidak boleh integrasi menyebabkan mereka tidak mendapat warganegara." Oleh kerana dakwaan ini telah dijawab, saya lebih berminat untuk meneliti komen-komen oleh penyokong Saudara Mohd Faizal Zulkifly, dibawah ada beberapa komen untuk dibincangkan.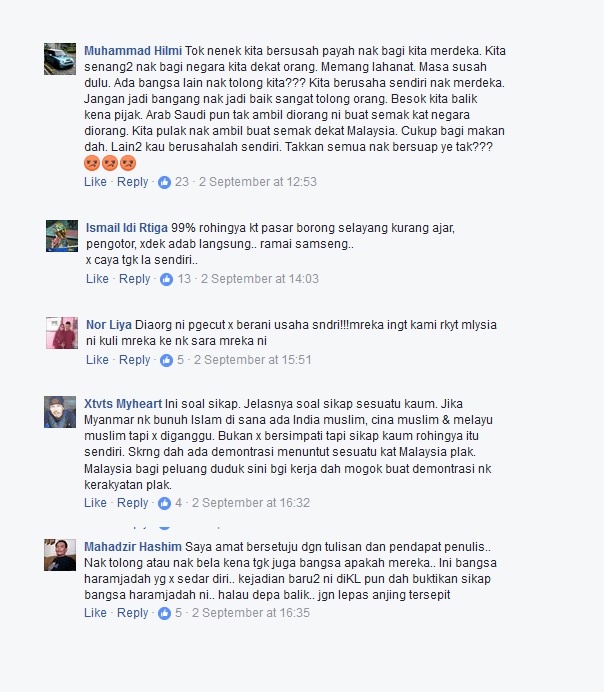 Komen Muhammad Hilmi, nama sedap tapi sayang, bahasa yang digunakan penuh kekesatan dan kebencian. Benarkah tiada bangsa yang pernah menolong bangsa kita? Mungkin beliau tidak pernah membaca berkenaan dengan bantuan tentera Ottoman semasa Melaka dikepung pada tahun 1568. Juga bantuan tentera Commonwealth dari Australia, Newzealand, Fiji dan lain-lain dalam perang guerilla melawan komunis dari tahun 1948 hingga 1960. Bahkan veteran ini dijemput oleh Malaysia semasa sambutan kemerdekaan baru-baru ini.
Ismail Idi Rtiga menulis 99% Rohingya di Pasar Borong Selayang kurang ajar. Sebelum menggunakan statistik ini, elok beliau ungkapkan kajian ini dari mana, berapa responden Rohingya yang telah di survey. Pengotor? Mungkin beliau tidak tahu bahawa mereka diberi perlindungan sebagai 'refugee' oleh UNHCR dan tidak boleh bekerja. Agak-agak kalau gaji mereka RM3000 sebulan hendak ke mereka tinggal di Pasar Borong? Jika benar pun ada segelintir yang bersikap tidak baik, wajarkah kita menghukum semuanya dan membiarkan mereka ditindas? Jika ada tiga orang warga Malaysia buang najis dalam shower di Osaka, bolehkah warga Jepun membuat kesimpulan bahawa 99% rakyat Malaysia suka buang najis merata-rata? Kita perlu lebih berhati-hati.
Nor Liya mengatakan mereka pengecut. Pernahkah Nor Liya melihat ibunya sendiri di bunuh di depan mata? Rumah dibakar? Xtvts Myheart mengatakan mereka mogok berdemonstrasi nak kerakyatan, mungkin beliau masih belum benar-benar pandai membaca. Sebenarnya mereka berdemonstrasi untuk menyampaikan nota bantahan kepada kedutaan Myanmar. Mahadzir Hashim pula menyamakan mereka sebagai anjing. Saya tertanya, jika pun tiada nilai kemanusiaan di dalam hatinya, tidakkah beliau pernah bersekolah dan belajar perbezaan antara manusia dan anjing?
Saya percaya, golongan-golongan simple minded dan rasis ini wujud di kalangan rakyat Malaysia, namun kita seharusnya tidak mencontohi mereka dan cuba sedaya upaya menasihati mereka. Seharusnya rakyat Malaysia bersama-sama menyokong persatuan yang membantu perjuangan Rohingya seperti HALUAN Malaysia dan MAPIM. Tekanan dari masyarakat international sememangnya mempunyai kesan dan mampu mengubah keadaan. Seperti mana Aparteid dapat ditumpaskan pada tahun 1990-1993 oleh tekanan masyarakat antarabangsa, tidak mustahil kita mampu memberi tekanan bagi mengakhiri kekejaman terhadap bangsa Rohingya.
Sumber foto: The Star
Author of several books including Berfikir Tentang Pemikiran. Fathi write from his home at Sungai Petani, Kedah. He like to read and sleep.