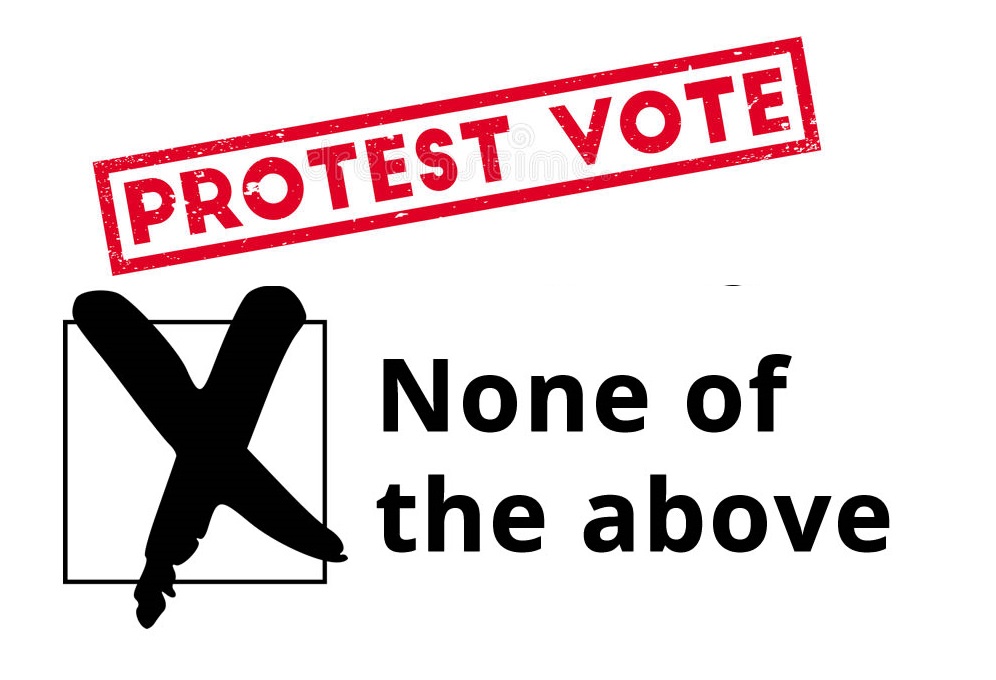 Saya secara peribadi sangat gembira apabila melihat gelombang anak muda dengan kempen protes dan undi rosak. Sedikit demi sedikit kempen ini memberi harapan bahawa suara keramat rakyat masih belum lenyap, dan anak muda mampu berfikir secara bebas walaupun dipaksa berfikir dalam kerangka doktrin 'dual-party'.Saya bersetuju dengan tulisan Jefri Musa:
"Bagi mereka yang mahu mengajar #undirosak tentang demokrasi itu, saya anggap mereka ini budak-budak. Patut mereka pergi sekolah balik, contohnya di Sekolah Demokrasi."
Ya, undi rosak bukan lah menentang demokrasi, malah sebaliknya ia adalah perkara yang menyuburkan demokrasi. Demokrasi adalah manefestasi suara rakyat, pilihan rakyat, pemikiran rakyat. Maksud demokrasi bukanlah memilih antara dua parti. Jadi jika rakyat tidak mahu undi, ingin protes, ia adalah hak rakyat dalam sistem demokrasi, hak bersuara dan menyatakan pendapat. Jika rakyat disuruh diam dan ikut sahaja pilihan yang telah ditetapkan oleh pimpinan parti politik itu bukan suara rakyat, itu suara ahli politik. Lebih mengejutkan ada golongan yang mengaku memperjuangkan suara rakyat, tetapi mengugut untuk tidak diteruskan kempen undi rosak. Contohnya pemimpin AMANAH, Hasanuddin Mohd Yunus yang menulis:
"Seksyen 124B Kanun Keseksaan menyatakan, sesiapa yang terlibat dalam aktiviti yang membahayakan/merosakkan demokrasi adalah terlibat dalam jenayah yang boleh dihukum sehingga 20 tahun penjara. Apakah kempen merosakkan undi termasuk dalam definisi 124B Kanun Keseksaan tersebut? Sebarang campur tangan penguatkuasa undang-undang seperti PDRM dalam kebebasan untuk berkempen agar orang tidak keluar mengundi atau merosakkan kertas undi, adalah pilihan terakhir sekiranya terjadi sesuatu yang benar-benar boleh mengancam negara."
Wow, belum berkuasa lagi sudah mahu menggunakan undang-undang dan polis untuk mendiamkan suara rakyat. Saya menyeru anak muda agar tidak gentar dengan ugutan-ugutan seperti ini. Undang-undang bukan lah sesuatu yang tetap, undang-undang berubah mengikut masa dan keadaan. Undang-undang dibuat untuk menjaga rakyat bukan menyekat kebebasan. Kita belajar dari sejarah apabila undang-undang seperti ISA dan AUKU digunakan untuk menekan suara rakyat, ia ditentang dan akhirnya di mansuhkan. Jangan takut dengan ugutan seperti ini.
Kempen ini juga menunjukkan warna sebenar individu yang seolah-olah menjadi guru kepada rakyat berkenaan demokrasi, namun apabila tiba di persimpangan, tenggelam dalam semangat parti, menjilat ludah sendiri. Tulisan ZF Zamir berkenaan dengan pendirian Hishamuddin Rais bagi saya sangat tepat. Beliau menulis:
"Sebagai anak muda yang membesar dengan terma "pembonsaian pemikiran" oleh Hishamuddin Rais yang merujuk gaya-autokratik-autoritarian-Mahathirisme, pencalonan Dr Mahathir adalah tamparan besar. Hari ini pada 2018, segala kejahatan "Mahafiraun" dan "Mahazalim" itu sudah hilang. Lebih dahsyat tamparan ini datangnya daripada Hisham sendiri, yang sebelumnya menulis makalah pembersihan dan penyucian bertajuk "Mengepung kota dari desa". Maka dengan kata kunci seperti "Bani Melayu" dan kata kerja seperti "Melayu kunci perubahan", Dr Mahathir kini disucikan oleh Hisham sendiri. Dr Mahathir pada 2018 persis seorang bayi, suci, putih dan disucikan, ditayamumkan oleh Hisham."
Pembangkang seolah-olah tidak belajar dari kesilapan 'Langkah Kajang'. Yang membelakangkan prinsip, menggunakan fitnah untuk menjatuhkan menteri besar. Namun akhirnya gagal, kejang. Kini mahu di ulangi dalam skala nasional, yang diperjudikan bukan menteri besar, tapi perdana menteri. Politik kartun apakah ini? Membawa calon perdana menteri sementara. Seolah-olah ia seperti bola sepak, ada pemain simpanan, boleh tukar-tukar. Mereka gagal memahami kehendak rakyat yang mahukan perubahan, perubahan polisi, mereka tidak kisah dengan sandiwara Anwar maafkan Mahathir, bekas tahanan ISA maafkan Mahathir, adakah yang dibawa adalah politik individu? Atau agenda rakyat?
Hatta Ambiga Sreenevasan turut merayu agar pilihanraya tidak di boikot. Beliau menulis:
"Every single vote matters. At least do it for the rakyat who are voting, so that their efforts are not in vain. This is not the election to boycott or spoil your vote because the nation cannot afford for the present state of affairs to continue. By not picking a side or by not voting, you may believe you are punishing both parties. The reality is, you are punishing only one. You know which one. Voting in a new government will mean the start of a healthy democracy. It means democracy wins and by extension, the people win." 
Yang peliknya Ambiga juga lah yang mengheret rakyat ke jalan raya sebelum ini dengan kempen BERSIH yang mengatakan pilihanraya ini kotor. Tapi sekarang berlumba-lumba hendak suruh rakyat mengundi. Sekarang dah yakin dengan pilihanraya? Sebenarnya apa yang beliau katakan adalah suatu ilusi. Kerajaan baru tanpa perubahan polisi tidak menandakan kesihatan demokrasi. Ambil Amerika sebagai contoh. Amerika merupakan antara negara yang punya system dual party antara Republican dan Democrat. Namun apabila kerajaan bertukar tangan ternyata tidak banyak perubahan yang berlaku. Apabila Obama dari Democrat mengambil pemerintahan dari Bush (Republikan) ramai yang menjangkakan perubahan baik terutama nya dalam foreign policy. Namun Obama gagal mengotakan janji dalam banyak perkara.
Obama berjanji menamatkan perang di Afghanistan, tetapi kemudian menambah jumlah tentera. Amerika mempunyai lobi kuat dari industri ketenteraan yang memerlukan ketidakstabilan dan peperangan bagi menjual produk senjata mereka. Krisis North Korea juga adalah baik pada mereka, kerana Amerika boleh menjual senjata kepada Jepun dan Korea Selatan. Polisi terhadap kerajaan Apartheid Israel juga tidak berubah, kerana kedua-dua parti berada di dalam poket AIPAC. Isu dalaman seperti mass shooting juga tidak selesai. Isu kesihatan mungkin bertambah baik sedikit dengan lebih ramai rakyat di beri coverage kesihatan dibawah ObamaCare namun kesihatan masih belum di jamin sebagai human right. Hari ini kerajaan berada dibawah parti republikan dan diketuai Trump juga tidak membawa perubahan signifikan. Buku tulisan Prof. Howard Zinn "The People History of United States" menganalisis perkara ini dari Columbus hingga ke era Bush.
Sebab itu kita perlu keluar dari doktrin 'dual-party' ini. Seolah-olah jika kerajaan bertukar semuanya akan berubah menjadi baik. Ia adalah illusi. Apa yang penting adalah substance dan polisi, bukan muka atau warna parti. Saya juga ingin merakamkan ucapan tahniah saya kepada Komrad Arutchelvan dari PSM yang meberikan pandangan peribadi yang saya kira adil. Dimana undi rosak merupakan sebahagian dari kebebasan demokrasi. Beliau menulis:
"Namun ide-ide untuk boycott, hartal, undi rosak dan sebagainya juga adalah strategi golongan kiri terutamnya golongan Maoist dan Anarkis dan kita tidak boleh meremehkan atau memperlekehkannya. Saya berpendirian bahawa seorang yang sangat muak dengan politik BN dan PH, memang mempunyai hak untuk tidak mengundi atau hak untuk undi rosak, dan saya tidak sekali-kali akan cuba menukar fikiran mereka kerana saya berpendirian itu adalah hak individu dan kebebasan demokrasi. Antara memulau dan undi rosak, saya setuju dengan hujah Aduka bahawa Undi rosak ada statistik."
Jangan hanya menelan apa yang di suap oleh ahli politik. Kita adalah rakyat, ayuh berfikir!
Author of several books including Berfikir Tentang Pemikiran. Fathi write from his home at Sungai Petani, Kedah. He like to read and sleep.