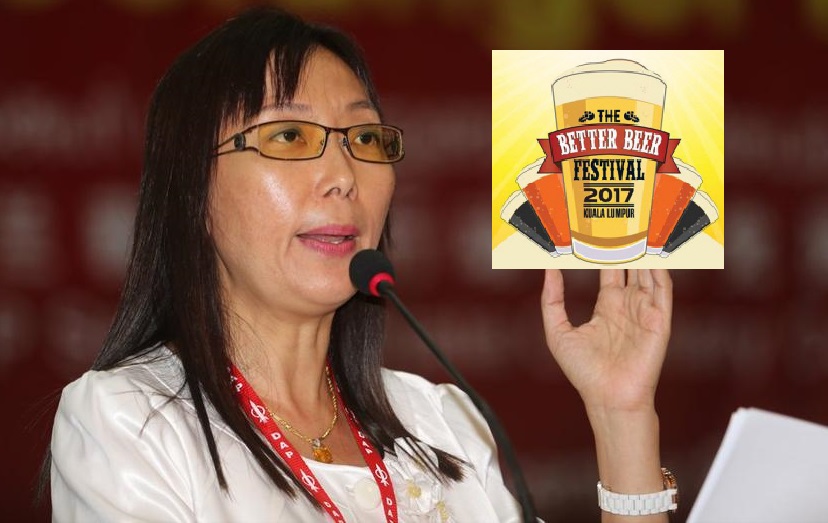 It makes me wonder. If I ask for permission to Teresa Kok to organized a  naked bubble party inside her house, and if she did not give me a green light, does that mean she's denying my right?
In her statement she made on 18 September 2017, she said that the DBKL decision not to grant permission for 'Better Beer Festival 2017' as denying the right of non-muslim in Malaysia. The question is, since when organizing beer festival become a right? Like human right you mean? I never read Amnesty International or Human Right Watch published report suggesting they recognized 'organizing beer festival' as international human right. Sounds silly.
Leaving religion and race aside it look like Teresa and her gang live in a very different world, detached from reality. Many countries have law, prohibiting drinking in public places. Singapore, a country which DAP always sang their praises also have a specific law on alcohol.Under the The Liquor Control (Supply and Consumption) Act, drinking is banned in all public places from 10.30pm to 7am, while retail shops are also not allowed to sell takeaway alcohol from 10.30pm to 7am. So does this make Singapore an ultra-religious country which does not respect non-muslim 'right' (or maybe Teresa Kok's right).
Glasgow also in 2016 refused a license to Oktoberfest Beer Festival. Among other things cited for concern was the drunk 'pose a threat to pedestrians and a significant burden on the surrounding streets'. The police also said that they have to stand riot van because of 'a number of fights broke out'. Such event do pose a threat to public disorder. If we use Teresa Kok's logic, the the government in Glasgow does not respect the right of non-muslim, and like DBKL, the goverment in Glasgow is trying to be 'jaguh agama'.
Have we forget the case in March 2017 where a drunk woman drove her car against traffic and caused an accident which killed an innocent man?
(Visited 164 times, 1 visits today)
Author of several books including Berfikir Tentang Pemikiran (2018), Lalang di lautan Ideologi (2022) and Dua Sayap Ilmu (2023). Fathi write from his home at Sungai Petani, Kedah. He like to read, write and sleep.