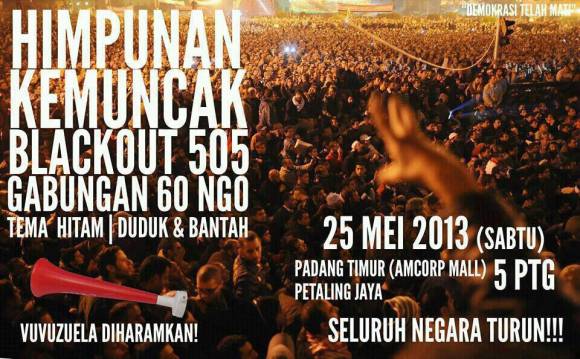 Post ini tidak bertujuan untuk meraih undi untuk mana-mana parti. Terpulanglah kepada setiap individu menggunakan akal dengan sihat bagi menilai dan membuat keputusan bagi menentukan hala tuju politik 5 tahun akan datang. Sekiranya mahu kerajaan baru boleh undi pembangkang, sekiranya selesa dengan kerajaan sedia ada boleh beri undi pada kerajaan (sekarang kerajaan sementara kerana parlimen sudah di bubarkan).
Apa pun pilihan anda kita kena berlaku adil. Yang salah tetap salah dan tidak boleh di sorok, agar kita faham siapa yang kita pilih. Agar kita boleh letakkan harapan yang realistik. Sekarang, di kehangatan pilihan raya yang bakal tiba, ternampak semula ulang tayang kononnya warga Bangladesh di import bagi mengundi kerajaan.
Satu laporan tribunal rakyat bertarikh 25 Mac 2014 telah menyimpulkan bahawa perkara ini hanya spekulasi dan tiada bukti yang jelas.
"Some of the evidence about "foreigners" voting was somewhat speculative (people who "appeared" to be foreign), which would not satisfy burdens of proof required in a court, and it is hard to draw any firm conclusion about this."
Laporan tribunal ini bukan diterbitkan kerajaan, tetapi oleh NGO Bersih. Perkataan 'Bangladesh' hanya disebut 1 kali sahaja pada laporan tersebut pada mukasurat 72.
Seperti biasa selepas itu pembangkang menafikan mereka pernah menuduh dan melakukan u-turn. Tetapi dari Mei 2013 hinggalah perkara ini di sahkan tidak benar menurut laporan pada Mac 2014, hampir 1 tahun persepsi dibina bahawa pilihan raya ini kotor. Dan walaupun fakta itu sudah terbukti salah, persepsi dan sentimen itu kekal. Kemarahan yang dibina itu berterusan menjadi modal.
Mungkin bagi sesetengah orang akan berkata "apa ini ungkit-ungkit kisah lama, please move on". Kelakar apabila calon perdana menteri pun di kitar semula. Move on? Jika benar nak berubah, berilah perubahan yang sebenar kepada rakyat. Jujur dalam berpolitik, bukan guna taktik fitnah dahulu, kalah saman kemudian.
Kenapa nak takut kalau tak sebar berita palsu? Ini negara demokrasi, PAS boleh beri sokongan jika akta itu di rasakan baik, PAS dipilih oleh rakyat dan mewakili rakyat. PAS bukan mewakili DAP.
Apa pun keputusan pilihanraya nanti, di harap kita dapat menerima nya dengan waras. Selamat berkempen sehingga 9 Mei. Semoga selepas itu kita kembali bersama bermuafakat membangunkan negara tercinta ini, siapa pun yang memerintah.
(Visited 55 times, 1 visits today)